Happy new year everyone!
I had some serious trouble with my Desktop-Computer, so I changed everything and can now FINALLY blog from my laptop! Yeah!
So here we go again, please enjoy some pics from the mysterious "MAGIC BAR", a secret bar , designed and executed by Claus Richter Studios in the basement of Castle Assenheim. (It is actually hidden under a trapdoor, which I find very exciting!)
The MAGIC BAR is multifunctional, all the little cosy lamps are connected to a 24-canal light-sequencer, so you can change their light from the warm flicker of the two fireplaces to a High-Energy-Disco-Lightshow within seconds. Its magic! (-:
Just imagine all the lights in your room could do this!
You can also find hidden buttons everywhere, press them and you can enjoy several mechanical surprises, including a small ship, fighting its way through huge imaginary waves, a dog with glowing eyes or a clock with a time on its own…Even a small rocking horse starts to rock at the press of a button.
Floor and carpet are executed in trompe l´oeil techniques, we painted everything on the plain floor, doesn´t it look real?!
So lets take a look, slowly the trapdoor opens with a creeking sound:
click pics to enlarge
Et voila, welcome!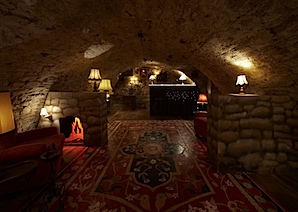 Seen from the DJs position
Details (and two buttons)
A magic ship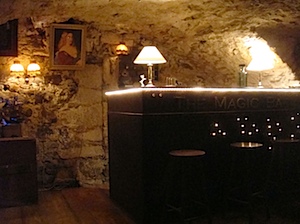 And a magic bar! (And yes, the painting can shoot laserbeams out of the ladies eyes, actually it shoots heart-shaped laserbeams)
xxx
Sherlock
This entry was posted on Sunday, January 3rd, 2010 at 1:05 and is filed under SHOWS.