Da ist er wieder.
Nach der üblichen "Ich ziehe in eine neue Wohnung und habe eine Ausstellung vorzubereiten und das Internet in der neuen Wohnung ist down und ich rufe alle zwei Stunden beim Provider an und die wissen auch nicht" -Pause, hier das Frischfleisch for you..
Die Gruppenausstellung "Après Crépuscule-Na Schemering-After Twilight-Nach Dämmerung" war für mich eine ganz ganz besondere Ausstellung.
Ich bin seit meiner frühen Jugend glühender Fan des belgischen Plattenlabels "Les Disques du Crépuscule", das in den 80ern die herrlichste Musik, die wunderschönsten Plattencover der Welt und die beste Selbstinszenierung überhaupt hervorgebracht hat.
HIER
gibt es nochmal meinen kurzen Text über Crépuscule, zum reinschnüffeln, dort kann man auch erfahren, warum ich für die SHow einen Tisch gebaut habe, und was das für ein Tisch ist.
Oliver Tepel aus Köln hat also nun das Unmögliche möglich gemacht, und im KÖLNISCHEN KUNSTVEREIN eine Gruppenausstellung kuratiert, in der sich Original-Entwürfe der Cover und Poster aus der Hochphase des Labels mit zeitgenössischen Positionen mischen, die sie alle auf das Label und seine Ästhetik beziehen.
Zu sehen gibt es Arbeiten von J.Louis Again, Enrico David, Christian Flamm, Julian Göthe, Benoit Hennebert, Julia Horstmann, Linder, Lucy McKenzie, Claus Richter, Hanna Schwarz, Claude Stassart, Lawrence Weiner, Detlef Weinrich und Denyse Willem.
Ich habe hier jetzt fix ein paar Fotos meiner Arbeit und einige tolle Cover, ich fahre aber nochmal hin und dokumentiere den Rest, jede einzelne Arbeit ist WOW!

Lucy McKenzie arbeitet an ihrer fantastischen Wandarbeit, im Vordergrund mein Tisch-Nachbau.

Vorne: Tisch von mir, Hinten: Wandarbeit von Lucy McKenzie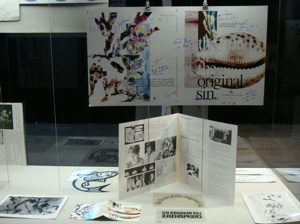 the fruit of the original sin, Coverentwurf, Benoit Hennebert

Originalcover, Benoit Hennebert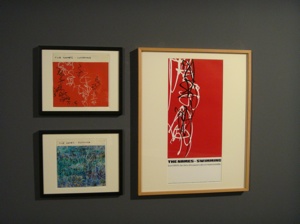 Poster und Posterentwürfe, Benoit Hennebert
GO AND SEE IT!!!
More to come.
This entry was posted on Sunday, February 15th, 2009 at 16:14 and is filed under SHOWS, LOVES, RESEARCH.