Hi there! Today is english-day at clausrichter.net!
I went to Amsterdam with my friends Ben and Conny to be a part of the global Harry Potter Craze. At 1:00 cet, the new Potter-Book was finally sold at bookshops around the world, and we went to the American Bookstore in Amsterdam.
But first, we had coffee at the beautiful GRAND CAFE at the Amsterdam train station. What a fantastic place, very 19th century!
They have a beautiful bird directly at the counter, the guests love it (including me!)
(click to enlarge)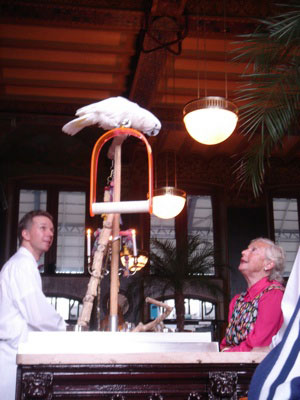 And here is Conny in her Potter-Dress: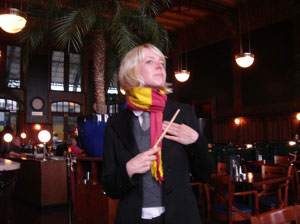 We got bikes and had a great ride through Amsterdam.

After a long day with one million interesting new impressions it was time for: The Harry Potter-Night!
We experienced:
Harry Potter Games

My friends, in the mood for Potter!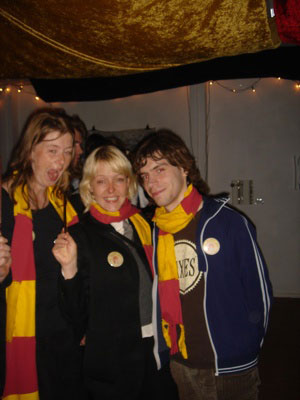 Even a Harry Potter Costume-Contest!
(First price was the first position in the Fanlining for the book)


And here it is:The line for the book!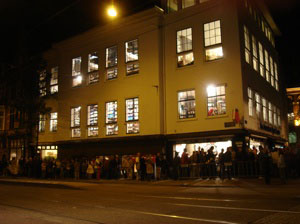 Everyone was very excited, there was a lot of cheering and screams of joy from those, who already got the book.

People instantly started ro read and TV crews instantly started to film the reading people.


My favourite costume of the night:The Phoenix-Bird!

What a great night that was!
At the moment, i´m packing my bags to go to Frankfurt for some days, see you there or on the net!
yours truely
Sherlock Potter
This entry was posted on Monday, July 23rd, 2007 at 23:01 and is filed under RESEARCH.