Ich habe gerade Uncyclopedia entdeckt, und ergötze mich an diesem herrlichen Wikipedia des Wahnsinns.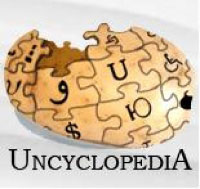 So sagt zum Beispiel der Eintrag zum Thema "Flowers":
"Flowers are a type of plant known for their grotesque appearance, obnoxious stench, and pornographic sex-organs. For some odd reason, women have always been infatuated with sniffing the sexual organs of various plants. Yep.
Girls love flowers! How Kewl!
Some women are known to say "it smells good," but this may be just an attempt to turn the plant on. Other behavior includes talking directly to the plant's sexual organs in order to stimulate it further. Others have gone so far as to eat flowers."
(Quelle: Uncyclopedia)
Auch mein Lieblingsfilm Blade Runner wird in einem Eintrag erläutert, laut Uncyclopedia spielt Blade Runner ein einer Leihbibliothek.
Ich empfehle ein bisschen dort herumzubrowsen und dabei viel Kaffee zu trinken, anstatt zu arbeiten.
Lazy Sherlock
(der in Wirklichkeit gerade eine große magische Tür aus Styrodur für eine Ausstellung in Holland baut, in der er dann ein neues Video namens "Infinity plus One" drehen wird, aber dazu dann später.)
This entry was posted on Tuesday, May 29th, 2007 at 3:05 and is filed under LOVES, RESEARCH.