Huhu!
Eine Ankündigung!
Vom 12. bis zum 15 April findet in Frankfurt die "fine art fair" statt, und wer Lust und Zeit hat, soll doch bitte reinschneien, denn ich fahre jetzt gleich nach Frankfurt, um auf eben dieser Messe beim fabulösen Revolver Verlag eine ziemlich große Kulisse zu bauen, in der ich dann am Freitag und Samstag ein kleines Musical drehe!
Hier gibt es ein lustiges Video-Interview mit Michael Neff. (Genau, es ist ein Bühnenstück von J.M. Barrie, der auch Peter Pan geschrieben hat)
Weil ich noch nichts so richtig verraten will, gibt es hier erstmal nur 2 kleine Grafiken, die dann im Musical auftauchen, Yeah! Moustaches! Flowers!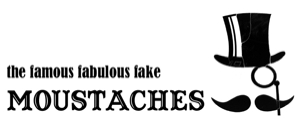 Come and see for yourself.
Die Kulisse und einige Production-Stills wird es dann ab dem 25. April in einer von Meike Behm kuratierten Groupshow im Mousonturm in Frankfurt zu sehen geben, in dem dann höchstwahrscheinlich auch die Premiere des neuen Videos sein wird.
Das Video wird "Facade" heissen.
xxx
yours
Sherlock
This entry was posted on Wednesday, April 4th, 2007 at 3:21 and is filed under SHOWS.