Die diesjährige Show von Bernhard Willhelms Männerkollektion fand in einem ziemlich winzigen Raum statt, und draußen waren es gefühlte 50 Grad. Die Massen versammelten sich auf der engen Strasse vor dem Veranstaltungsort und blokierten sehr zum Unmut etlicher Autofahrer für knapp eine halbe Stunde den Weg, was die Autos nicht abgehalten hat, uns durch ziemlich unsanftes langsames Anrollen wie Schneeräumwagen wegzuscheiben. Die Fashion-Crowd als Matsch-Schnee, eine feine Vorstellung. Ach, Paris!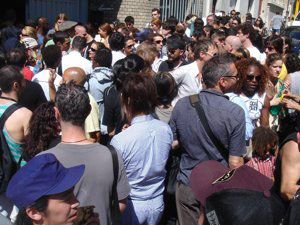 Die Show selbst wurde diesmal mit dem Knacken von 100 Metronomen untermalt, als alter Arte-Gucker hat man das Stück für 100 Metronome von Ligeti als Quelle des tongebenden Videos ausgemacht…Die Show kann ich nicht unvoreingenommen beschreiben denn es waren im Gegensatz zu draussen nun gefühlte 80 Grad und ein ignorantes Fashion-People hat sich gleich auf meine frisch geschenkt bekommenen Fashion-Mags gestellt und war auch durch lautes Rufen und Schlagen nicht davon abzubringen, mit versteinerter Miene auf den Druckwerken herumzutreten. Ich war also ziemlich übertemperiert und geladen und fand somit keine Ruhe, der Show mit der mir sonst in die Wiege gelegten Konzentration zu folgen.
Fotos sind etwas shaky, es war echt dunkel und wiegesagt….
(Alle Fotos Popup-Enlarge bei Anklick)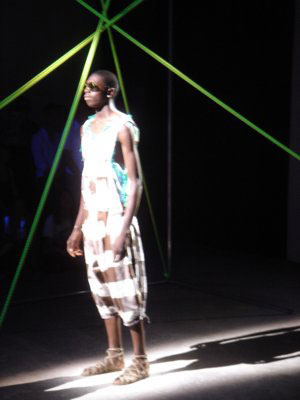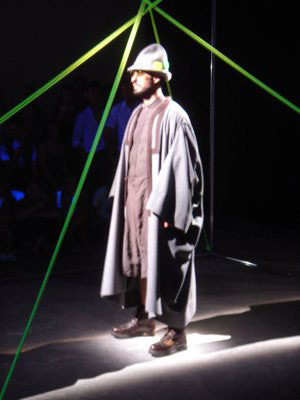 Aber! Was ein Glück hatte ich am folgenden Tag die Gelegenheit, in Bernhard Willhelms Studio einen privaten Blick auf die neue Kollektion werfen zu können. Und das war sehr schön. Diesmal gibt es für den Mann von Welt ultraversteifte Stofflederhosen, Caps und Tücher mit korallenhaften roten Applikationen, einige markige Printshirts zum Thema Gay-und Lederzenentrash, die gerade in XL sehr fesch sind, sehr strenge Fräulein Rottenmeyer-Trachtenjackets mit Smiley-Buttons, dazu fantastische kreisrunde Smiley-Sonnenbrillen, wunderschön konstruierte gestreifte Hemden mit verschiedenen Lagen, die wie Hosenträger oder Lätzchen übereinanderliegen und sehr sportiv-technoide Taschenwesten aus blauweissem Stoff mit Pferdchenprints und passende Kniehohe Socken.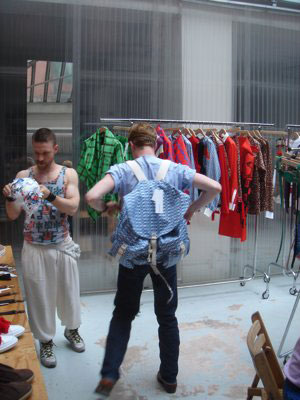 Bernhard und Christian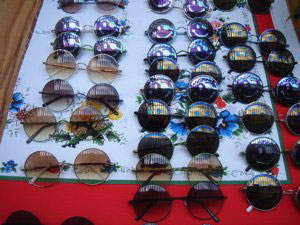 Smiley-Brillen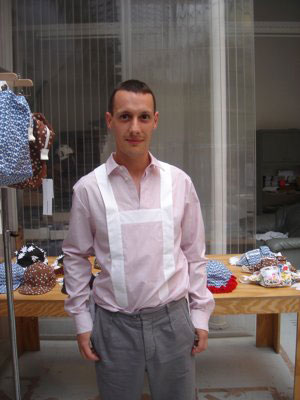 Andy mit wunderschönem neuen Bernhard Willhelm Hemd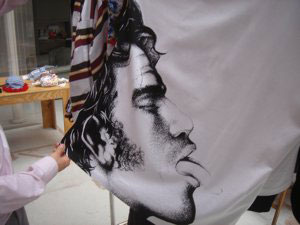 Yeah Baby, Yeah!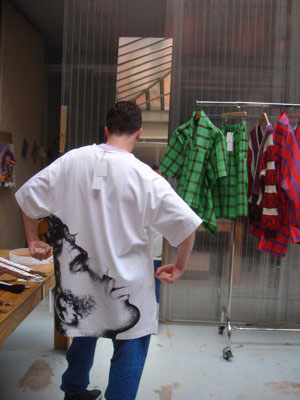 Andreas modelt. Man beacht, wie gut die Zunge plaziert ist!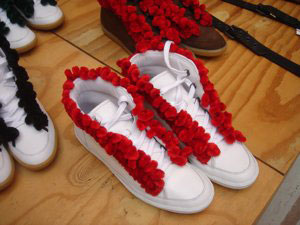 Yours Sherlock mit Edelweiss-Cap und Smileybrille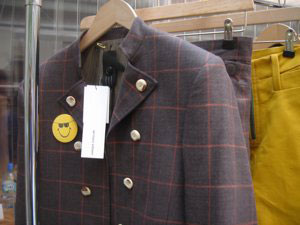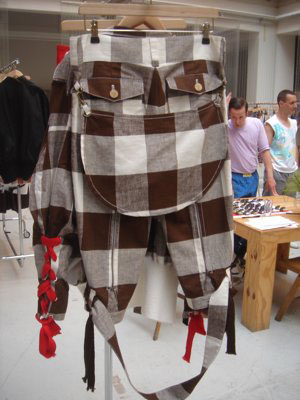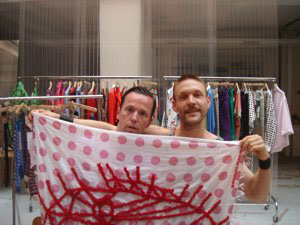 Andreas und Bernhard machen Spökes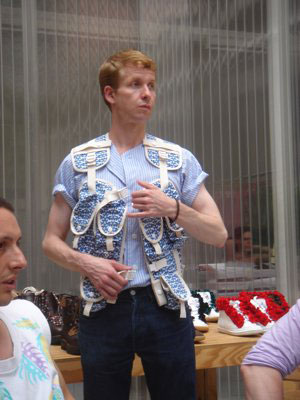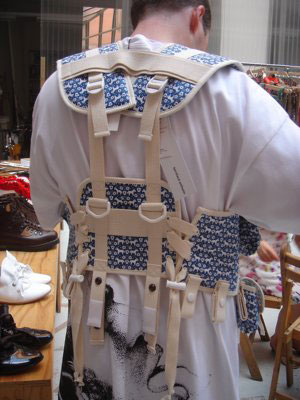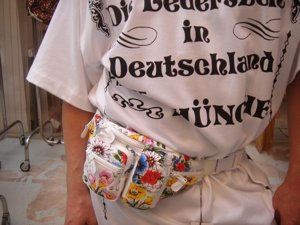 Die Kollektion heisst "Fuck the world" und ist dementsprechend divers, ich konnte kein übergreifendes Thema erkennen, aber "Fuck the World" passt schon gut, finde ich. Insgesamt also Trachten, Lederhosen (bayrischer Style), Trachten, Smileys, klassisch gemusterte Hosen und Hemden mit vielen raffinierten Schichten und anknöpfbaren Elementen und immer wieder dieses rote krüsselige Bordürenmaterial, das extrem Cheapo wirkt, und gleichzeitig auch opulent.
Ich finde Bernhard Willhelms Kollektionen immer sehr sexy und energetisch, nix für Stubenhocker, man hat Lust, in seiner Kleidung ein bisschen rumzutoben und Muckis spielen zu lassen ich werde wohl trainieren müssen, es ist seltsam, obwohl ich partytechnisch immer ruhiger werde, und auch von der mit sexy Herren und Fashionwesen vollgepackten abendlichen Willhelm Party schon um 1 Uhr wieder abgehauen bin, erweckt seine Kleidung in mir den Wunsch ein angstloser, lustiger und charmanter Rabauke zu werden. Das gefällt mir gut, es geht weniger um Distinktion sondern um Aufgehobenheit und Anstlosigkeit, ich finde Bernhard Willhelms Kleidung sagt : "Komm schon! Wovor hast Du Angst? Auf geht's! " und zwar auf eine Art, daß man selbst als alte Dame wie ich nicht Nein sagen kann.
Ich möchte auf diesem Weg auch Andy und Andreas von Heimat grüßen und Danke sagen, ohne die 2 hätte ich nicht die tolle Gelegenheit immer mal wieder Euer rasender Modereporter zu sein. Die neue ModeDepesche ist übrigens auch erschienen, es gibt einen kleinen Text von meiner Wenigkeit, ein fesches Shooting in Nan Goldin´s Pariser Wohnung, einen Text von der nach Kanada imigrierten und wie immer famosen Produzentin und und und…. Go get one!
This entry was posted on Sunday, July 9th, 2006 at 16:40 and is filed under RESEARCH.