Sufjan Stevens war ja mein allererster Blog-Eintrag hier auf clausrichter.net, und da Sufjan zu meinen Allerliebsten zählt, darf es jetzt ruhig mal wieder ein Update geben…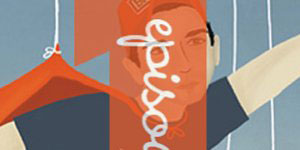 Ein neues Sufjan Stevens-Album ist in Vorbereitung, es wird ""The Avalanche" heissen, am 11. Juli erscheinen, und hier kann man schon eine Pre-listen-Session geniessen. Klingt so, als ob mal wieder alles ganz ganz großartig wird, und das finde ich sehr beachtlich, es findet zwar durchaus eine Wiederholung bekannter Motive und Orchestrierungen statt, aber trotz dieser Wiederholung bleibt das Ganze dynamisch und keinesfalls Formelhaft. Ich kanns logischerweise kaum abwarten, hier die neue Platte in höchsten Tönen zu bejubeln, bis dahin aber erstmal 2 entzückende Videos.
Zuerst Sufjan Stevens selbst. Auf YouTube gibt es ein schönes, einfaches Video zu dem Hit "For the Widows in Paradiese, for the Fatherless in Ypsilanti" in dem das volle Register an ländlicher Einfachheit und der damit verbunden Schönheit gezogen wird: Man muß Sufjan Stevens einfach irgendwo hinsetzen, und es sieht schon gut aus, aber vor einem Farmland ist er unschlagbar, habe ich eigentlich schon erzählt, daß Sujan Stevens wirklich HOT ist? Ja, oder?

Und als ganz besonderes Highlight hier eine Coverversion des Sufjan-Songs "Chicago", und zwar A-Capella interpretiert von den "Carleton Singing Knights", einem amerikanischen Schulchor, dem ab heute weiterhin meine Aufmerksamkeit und meine innige Zuneigung gesichert sein wird, enjoy:

This entry was posted on Monday, June 19th, 2006 at 13:29 and is filed under LOVES.