Ach Herrjeh! Wieder mal viel neue Musik, diesmal aber eigentlich nur eineinhalb mal richtig der Musik halber und eineinhalb mal wegen funky sexy Energiewahnsinn.
Zuerst mal die funky sexy Energiewahnsinnsacts:
Captain Ahab würde ich sehr gerne mal live sehen, ich glaube, ihre Musik ist mir als Track an sich zu clownesk, aber ihre Auftritte würden mir glaube ich gefallen. Jonathan Snipes und und Jim Merson´s Auftritte werden von Wikipedia so beschrieben: " While performing, members of Captain Ahab are usually partially undressed, covered in sweat, and constantly forcing themselves into physical contact with members of the audience. While the lyrics to some Captain Ahab songs are satirically misogynist, their live performance is thoroughly homoerotic."
Die Musik klingt trashig, disco, und auf angenehme weise teenie-haft, soweit ich bis jetzt gehört habe.
Ahab-Beefcake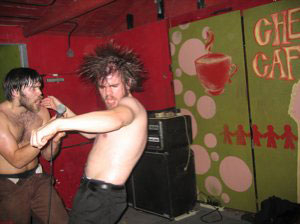 Es gibt einige Videos, auf denen man sich überzeugen kann, daß Teenie-Pathos, Kunstblut und sexy Boys schon irgendwie eine gute Kombi geben können, von mir aus könnte sie allerdings das Kunstblut weglassen….
Hier gibt es im Moment das neue Video zu ihrem hochdramatischen Song "U want me" zum Download! Have a look!
Ein weiterer High-Energy-Wahnsinn wird von den sehr sympathischen Gravy Train angeboten, und diesmal gefällt mir die Musik auch viiieel viiiiel besser. Gravy Train klingen wie eine ganz gut gelungene Mischung aus den B 52s, dreckigem Schweine-Rock`N`Roll, und billiger Beatbox. Und es klingt auch nach Schweiss und Spaß und sieht so aus: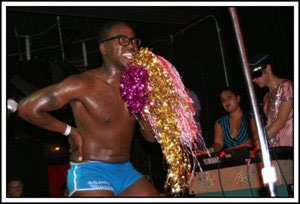 Jaha, liebe Freunde, heute ist echt Beefcake-Band-TIme, und hier sieht man JUNX von Gravy Train im Einsatz.
Herrlich ist sein Auftritt als Background Boy für den Hit "You made me Gay": Hier bitteschön (die Karaoke-Version):
Und hier noch ein herrlicher Live-Mitschnitt mit herrlicher Homo-Strictness! I love you Junx! (And thats what I call Hotpants!) Voila:

Ganz und gar nicht Homo sind leider die Jungs von Spank Rock, aber sie machen den besten, funkigsten, trockensten, electroigsten, weirdesten HipHop seit langen, und mir zappelt jedes Gelenk von den paar Tracks, die ich bisher gehört habe, richtig funky, aber richtig richtig funky!

Es gibt wirklich gute Samples (z.B. Laurie Anderson) und ausgesprochen trockene Breaks, die Art der Rhymes erinnern an den frühen Q-Tip, und manchmal denkt man auch ein bissi an Dizzee Rascal, und insgesamt will man sofort Captain Ahab oder Gravy Train sein und wie irre auf einer Bühne herumzappeln, ausrasten oder natürlich gerne auch beispielsweise wahnsinnig cool Autofahren und dabei nur ein bisschen nicken zum Beat.
Hier das Video zum tollen Track "Rick Rubin"

Ich finde keine direkten Link zu dem fantastischen Mix, den man auf ihrer Seite herunterladen kann, aber ich beschreibe es einfach mal:
Man geht auf die SpankRock Seite und Clickt oben in der Menüleiste auf "Downloads" und da gibts dann sowieso einiges Feines, aber wirklich fantastico ist das European Exclusive, das "BBC Breeze Block Set".
Soweit zu den feschen neuen Bands, xxx yours WebSherlock
This entry was posted on Saturday, June 10th, 2006 at 23:03 and is filed under LOVES.