Der eigentliche Grund meines Besuchs! Michaela hatte in der Simultanhalle eine Art Überblicks-Show mit Arbeiten der letzten Jahre inszeniert, und zwar richtig toll, wie es zu sein hat: Mit Stellwänden und Vitrinen voller Bezüge, Relikte und Kostbarkeiten. Wir kennen uns ja noch nicht so lang, für mich war das fantastisch, alles so kompakt sehen zu dürfen.

Schon die Wahl der Stellwände hat mir gut gefallen, der graue Filz. Eben auch prima gehängt und toll, daß es so viel verschiedene Dinge gab, Poster, Fotos, Malerei, Skulptur.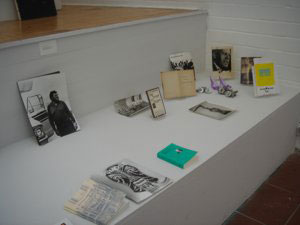 Eine feine Auswahl an Katalogen und Lieblingsmaterial.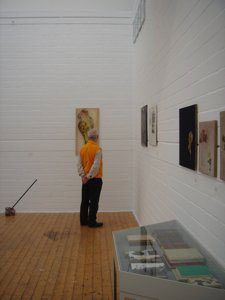 Wie im Museum. Perfekt.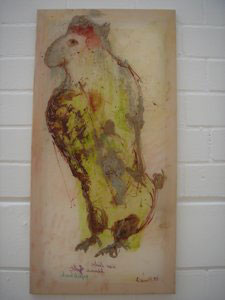 Das Tier ist gleichzeitig kauzig, ein bisschen einsam und unheimlich sympathisch. Ich hätte es gerne zum Freund. Es ist sicher schon etwas älter und isst gerne Gebäck und Tee.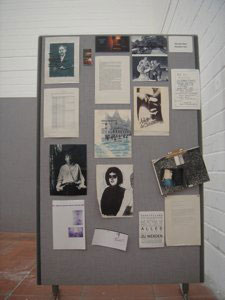 Stellwand-Sammlung. Fantastisch: Mark E. Smith!

Das ganze Konzept haut echt gut hin, diese Simultanhalle in ein Museum zu verwandeln. Links :Skulptur.
Zu späteren Stunde gab es dann ein Lagerfeuer vor der Tür und dazu lief durch und durch gute Musik, sehr viel The Fall, und ich hatte meine neuen Biker Boots an, und konnte da rauchend am Feuer sitzen und Mark E Smith nörgeln hören und die Stiefel rösten, die in der Dunkelheit liegende Halle mit der offenen Tür und dem Neonlicht und Michaelas Ausstellung war da echt ein ganz geschlossenes Ensemble. Ein Backsteinjuwel mit lauter Dingen gefüllt, die man mag und die angenehm selbstbewußt da an der Wand hänge und in der Vitrine liegen, und denen es egal ist, ob die Halle kalt ist, weil sie das aushalten. Diese verfeinerte Rauheit steckt da drin, und Mark E Smith ist da sicher ein Seelenverwandter, Mensch die zwei sollten sich mal kennenlernen, das wäre ein Fest.
Ich habe jetzt auch eine kleine Eichwald-Bibliothek bei mir, und studiere fleissig tollste Texte, ich empfehle dringenst den Kauf von Büchern und Werken!!
Das Lagerfeuer war dann umzingelt von den nettesten Menschen und auch anderen, und es gab immer wieder irgendwoher neues Holz, knisterndes Reisig, und nach und nach dann etwas wilderes Brennmaterial: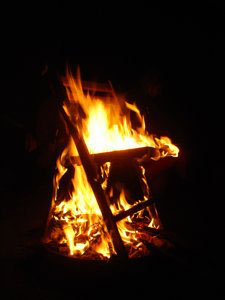 Klappstuhl in Flammen.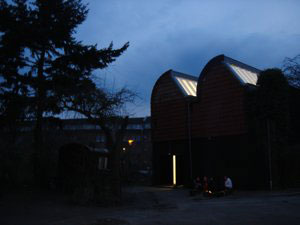 Cologne Campfire.
Bitte mehr davon und bitte bald eine Lesung! Seufzt der neue Fan Sherlock Richter.
This entry was posted on Wednesday, April 12th, 2006 at 23:13 and is filed under LOVES.