Peter Lütje, Künstler und Mitbetreiber des rraum in Frankfurt hat vor knapp einem Jahr angefangen, neben seiner skulpturalen Arbeit auch Kleider zu entwerfen und zu nähen, und in seiner Show im 1822-Forum gab es jetzt die neuesten Modelle im Rahmen einer offensiv autorenlosen Einzelausstellung zu sehen. Schon die Einladungskarte war ohne Namen gedruckt, den Katalog haben Taner Tümkaya und Michael Pfrommer, zwei Freunde von Peter, an seiner Stelle gestaltet und auch das Plakat weist nicht auf Peter als Autor hin.
Zu Beginn der Eröffnung wurde diese Prinzip auch auf die Eröffnungsrede angewandt. Nikola Dietrich las 25 Minuten lang einen Giorgio Agamben-Text, der in seiner Ausrichtung ziemlich gut auf Peters Ansatz passt. Ich hab ja die Rede bei der vorhergehenden Ausstellung gehalten, und schicke hiermit Love and Shouts an Nikola, 25 Minuten so konzentriert und ruhig Agamben vor einem so durchmischten Publikum zu lesen ist echt eine Herausforderung.
Nach der Rede dann betraten Darstellerinnen in Peters neuen Kleidern den Raum und wechselten die Neonröhren des Raumes gegen farbige Neons aus. Eine total entzückende Idee, finde ich. Einfach, schnell und toll. Eine Wand des Raums war von Peter quasi in ein Trompe L`oeil einer frisch gebauten Rigipswand verwandelt worden, die verspachtelten Fugen und Löcher waren auf die Ausstellungswand aufgemalt, gleichzeitig ein Zitat einer Arbeit von Alexander Wolff, vor einigen Jahren vom ihm im rraum02 realisiert. Auf einen weiß gepinselten Teil dieser imitierten Bauphase wurde ein Video projiziert, in dem die Darstellerinnen genau das taten, was sie vor wenigen Minuten "in echt" getan hatten: Die Neons des Raumes gegen farbige Neons auswechseln.
Ähnlich wie Mandla Reuter in seiner vorhergehenden Ausstellung im Forum, arbeitet auch Peter mit minimalen Eingriffen, meine Mutter würde sagen "Hier ist doch garnichts zu sehen?". Und doch ergibt sich aus diesem Minimalismus keine Sprödheit, sondern eher Opulenz. Das Wandgemälde, die neuen Neons, der Prozess des Austausches der Deckenbeleuchtung, das ist ja alles mit funkyness im Hinterkopf gemacht, und diese funkyness im Hinterkopf mag ich gerne!
Hier die Pics:

Nikola liest Agamben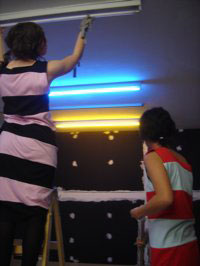 Neonröhren werden getauscht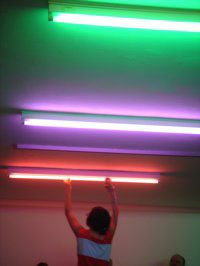 mehr Neonröhrentausch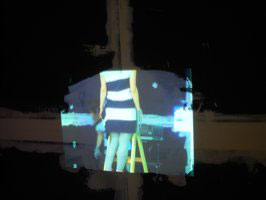 Das Video auf der gefakten Rigipswand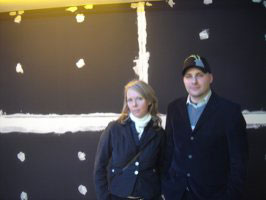 Meine zwei entzückenden Freunde Gabi und Christoph versuchen, streng zu gucken (9. Versuch)

Unfassbar süsser Abschluß der Fotodokumentation: Christophs neue Cap, auf der eine Art Godzilla eine Art Strahlen aus seinen Augen schiesst! In die Inneseite der Cap ist ein pfurzendes Pferd gestickt. Wunderbar.
This entry was posted on Tuesday, April 4th, 2006 at 12:46 and is filed under RESEARCH.