…dann hätte ich die a) ziemlich sicher gerade mit Bernd zusammen, und wir würden b) sicher versuchen, unsere gemeinsame neue Liebe für verfeinerte Bands der 80er Jahre in musikalische Formen zu giessen. Hier läuft nämlich gerade in diesen zwei Haushalten nichts anderes mehr als Scritti Politti und Prefab Sprout. Ich bin selbst ganz baff. Ich habe diese Bands schon auch mitbekommen in den 80ern, aber irgendwie ist das nicht bei mir angekommen damals, dafür trifft es mich jetzt umso mehr, und das ist ja auch prima, denn ich habe den Effekt, den Musikjournalisten und Fans damals hatten eben herrlicherweise volle Pulle 20 Jahre später, und da sitzen wir jetzt und schwärmen von Melodienfolgen und Klugheit und wehe einer sagt, daß sei retrospektiv und Sentimental!

Prefab Sprout ist ja eigentlich schon vom Namen her fantastisch! Wie Grace Jones schon zu einer Modenschau von Alexander McQueen sagte: "On the one hand futuristic- On the other hand romantic! I love it!" Präfabrizierte Knospe. Und Andromeda Heights schwebt wie ein semitransparenter Hollywood-Film durch Gärten und Lüfte!
Steve McQueen hat ja wohl das tollste Bandfoto, wow! Toller ist allerdings der Titel einer Whirlpool Productions LP: "Brian de Palma", aber das ist ja nicht schlimm.
Den Track "Faron Young" von der Steve McQueen-Platte war auf meinem allerersten aus dem Radio aufgenommenen Tape, und ich fand den immer doof, aber wie man ja früher eben keinen Spinat mochte und jetzt am liebsten schon morgens darin baden möchte, so ist es auch mit diesem Track.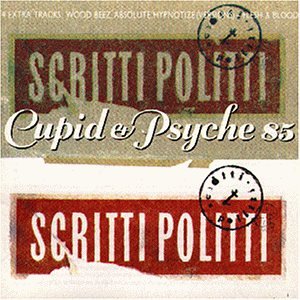 Scritti Politti habe ich früher auch überhaupt nicht verstanden. Ich habe da mit 17 reingehört und gedacht "Hä?" Mit 29 habe ich glaube ich nochmal reingehört und immer noch "Hä?" Und nun das! Ich frage mich selbst, was sich verändert hat, ich glaube, mit voranschreitendem Alter gefallen mir einfach diese etwas dezenteren Herangehensweisen an Schönheit immer besser. Les Disques du Crépuscule und ihre von dem begnadeten Benoit Hennebert geprägte Visualität waren ja damals wie Heute eine extreme Vorlage für meine Idee von Schönheit und Eleganz ohne eine zwangsläufige Koppelung an Geldluxus, Scritti Politti und Prefab Sprout waren mir damals zu "Mainstream", und erst heute kapiere ich, daß es nicht so war, und selbst wenn, wäre das ja eben auch egal, genau in dieser "unkünstlerischen" Beweiszwang-losen Unaufdringlichkeit könnte ich heute tagelang spazierengehen, und mit den Bands würde ich wirklich gerne mal Kaffee trinken. (Aber da ist die Liste insgesamt sehr lang, zugegebenermassen)
Wenn ich mit Bernd eine Band hätte, würden wir einfach ein Lied drüber machen, mal sehen.
This entry was posted on Friday, March 10th, 2006 at 0:54 and is filed under LOVES.