Jake the Rapper war vor knapp einer Woche in Frankfurt zu Gast, und Michelle Noelle und ich haben die Gelegenheit ergriffen, und sein Konzert besucht.
Mich hat an Jake erst einmal sein Aussehen interessiert. Ähnlich wie zum Beispiel HarMar Superstar , auf den mich damals meine gute Freundin Die Produzentin gebracht hat, ist Jake offensiv Sexy mit einer ganz anderen Körperlichkeit, als das übliche Bild von maskuliner Sexyness in der Popmusik.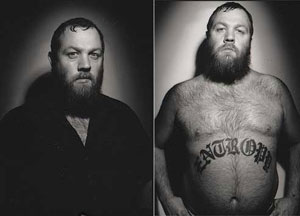 Jake ist vom Look her ein Ideal-Bär, aber mit an Sicherheit grenzender Wahrscheinlichkeit nicht schwul. Vielleicht ist das eine neue subtile Form von Metrosexualität, die nichts mit gezupften Augenbrauen, David Beckham-Clonen und zu viel Parfum zu tun hat, sondern schwule Ausbrüche aus dem ja auch hier sehr dominanten ganzkörperrasiertem gebräunten "gepflegtem" Fitnessideal in die Heterowelt überführt. (Ob unwissendlich oder bewußt würde mich interessieren.)
Nicht daß es dicke, haarige Männer nicht schon immer in beiden Ausrichtungen gegeben hat, aber die selbstbewußte Inszenierung der Haarigkeit und Dickheit im Begriff des "Bär" ist irgendwie schon eher auf dem schwulen Mist gewachsen. Lange Rede, kurzer Sinn, mir gefällt es gut, daß Künstler wie Jake und HarMar frei abgewandelt nach Workshops Platte "Es liebt Dich und Deine Körperlichkeit ein Ausgeflippter" ziemlich überzeugend nach dem Motto "Es liebt Mich und Meine Körperlichkeit ein Ausgeflippter" auftreten.
Und so war dann der Auftritt von Jake auch wirklich sehr gut. Ich hatte vor ein paar Monaten in seine CD reingehört, und habe sie damals wieder ins Regal gestellt, weil mir die Sounds zu plastik-preset-dünn erschienen, aber live ist das alles ganz anders! Die Bässe waren richtige fette fiese Hosenschlacker-Bässe, die Beats waren funky und fett, fantastisch! Jake macht offiziell HipHop, aber mit sehr starken Electro und Disco-Gewürzen in der Suppe, und das ist dann live ein feines Süppchen.
Ich empfehle wirklich den Konzertbesuch, falls Jake in Eure Stadt kommt. In Frankfurt gab es für das ganze Publikum Cheerleader Pompons, von denen auch herzhaft Gebrauch gemacht wurde, eine gute Idee.
Jake hat natürlich auch nach und nach Kleidung verloren, ich war ein bisschen schüchtern vorne am Bühnenrand mit meiner Kamera, aber hier nun drei prächtige Jake-Portraits, live on Stage in FFM. (zum anklicken und ausdrucken und aufhängen)

This entry was posted on Monday, February 27th, 2006 at 14:21 and is filed under LOVES.