Cosplay (Costume Play) ist seit einigen Jahren ein Feld, daß ich mit immer noch wachsender Begeisterung studiere und ich kann und kann nicht genug davon kriegen, denn die Cosplayer dieser Welt sind so enorm einfallsreich und brilliant, daß es nie langweilig wird.
Nach dem Fantasy- und Manga Cosplay und dem Science-Fiction-Cosplay. den Gothic Lolitas und dem leider noch nicht wirklich so richtig präsenten aber hoffentlich bald (vielleicht ja von mir) gegründeten Sherlock-Holmes und Victorian Times Cosplay (es gibt da natürlich auch Gruppen…) lief mir heute bei der Recherche zu meinem neuen Video das wirklich gute Piraten-Cosplay über den Weg. Ich erinnere mich, daß meine Kontaktfrau von der 501st legion of the Stormtroopers auf der Star Wars Convention in Indianapolis irgendwann sehr herzlich einen Jack Sparrow (Pirates of the Carribean)-Cosplayer begrüsst hat, und ich nie geahnt hätte, wie gut die Piraten-Szene organisiert ist.
Hier jetzt als Beispiel das Pirates in Paradise-Festival in Key West, Florida.
Für mein neues Video besticke ich gerade auch schon eine frisch gekaufte Piratenjacke, mehr verrate ich aber noch nicht, Drehtermin ist der 8.Februar…
Hier ein paar herrliche Piratenfotos von Pirates in Paradise,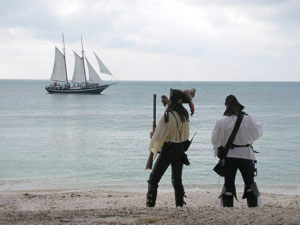 Piraten am Strand

An Bord.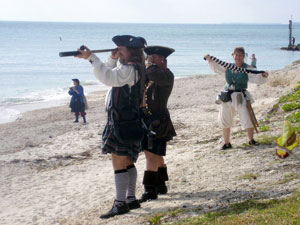 Auf Opfersuche.
This entry was posted on Sunday, January 29th, 2006 at 1:22 and is filed under RESEARCH.