Das neue Devendra Banhart-Album finde ich super, entgegen aller Net-Kritiken, die ich bis jetzt gelesen habe muß ich sagen, daß ich gerade gut finde, wie er zwischen den Hippie-Stilen hin und herspringt. Die Alben davor haben mich irgendwie nicht wirklich berührt, aber allein jetzt schon der wunderschöne Opener "Now that I know", da steig ich sofort ein. Ich möchte auch dringend empfehlen, das ganz simple aber ebenfalls sehr gute Video zu "Heard somebody say" anzuschauen, da gibt es auch Anthony von Anthony and the Johnsons als magisches Medium im Bett zu sehen, und viele andere hübsche Menschen, denen ich das irgendwie alles glaube, warum auch nicht. Ich bin ja nun nicht gerade ein Neo-Hippie, möchte aber im Zuge dieses Eintrags noch eines meiner All-Time-Lieblingsbücher anpreisen, das sehr gut zum Thema passt. nämlich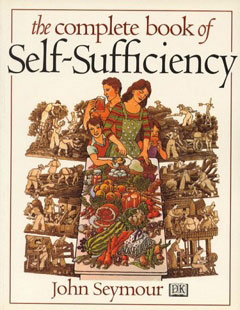 Das ist ein wirklich wunderbares Buch voller herrlicher 70er Illustrationen und Anleitungen, wie man ein Leben als Selbstversorger leben kann.
John Seymour ist inzwischen über 90 und praktiziert das wirklich alles mit der Selbstversorgung, er hat ein ziemlich interessantes Leben, und ist natürlich eine Ikone der Selbstversorger, zu denen ich mich allerdings nicht zähle. Ich zähle mich zu den Eskapisten.
Mir gefallen sowohl an Devendra Banhart als auch an John Seymour die komplexen und positiven Gegenwelten, die da angeboten werden. Bei Devendra Banhart ist es das Bild der modernen Familie aus Freunden und einer Zuwendung hin zu Verspieltheit und Leichtigkeit, bei Seymour ist es die Produktion von eigener Nahrung und die damit verbunden Arbeit als Sinnstiftung. Ich glaube, daß beides am besten als Idee oder als Komponente eines eigenen eklektizistischen Weltentwurfs funktioniert, das sind Komponenten, die ich schon gerne mag, ich fände es aber furchtbar, in der TAZ zu annoncieren "Suche Mitstreiter für Selbstversorgerbauernhof", der Sozialhorror und scheint mir vorprogrammiert, und ich schmeisse auch meine gesammelten Gadgets, Blade-Runner-Devotionalien und EPCOT.Souvenirs nicht hin,ganz im Gegenteil. Aber Devendra Banhart und John Seymour kommen ja auch nicht wirklich aus einer so anderen Welt, vielleicht könnte ich meine Gadgets ja mitnehmen und mit der Devendra-Banhart-Gang Blade-Runner nachspielen, auf einem rustikalen Bauernhof mit DSL und von Syd Mead gestalteten unterirdischen Erweiterungen. Dazu ein Disney-Monorail in die nächste Metropole…Hmmm.
This entry was posted on Friday, November 18th, 2005 at 14:31 and is filed under LOVES.