Zwei neue Lieben, die sehr unterschiedlich sind, um so besser…. Auf Vic Thrill bin ich über dieses Musikvideo bei videos.antville gestossen. Ich fand einfach, daß er ziemlich gut aussieht, eine interessante Mischung aus langweiligem Muskel-Eastcoast-Guy (obwohl er ja Westcoast ist) und einem angenehm Irren. Das gibt es selten, und in dem Video, das sehr simpel aber irgendwie mitreissend ist, führt er sich tatsächlich ganz schön energetisch auf, man kriegt gleich Hummeln im Arsch, und die Musik ist ganz und garnicht langweilig, sondern ziemlich vollgestopft mit Ebenen und guten elektronischen Bässen. Vic Thrill besteht quasi aus den Resten von "Bogmen" und "Garden Variety", zwei New Yorker Bands, die ich nicht kenne, aber ich werd mal recherchieren. Irgendwo habe ich grad gelesen, daß sich Vic Thrill anhört, wie Marc Bolan/T-Rex oder der frühe Glamrock-Bowie mit High-Tech-Equipment, das gefällt mir, und ich finde, da ist was dran. Auf der Homepage der Band kann man ein paar Tracks probehören, ich kaufe die CD gleich sofort , Sexy -Hibbel-High-Tech-Glamrock ist genau mein Ding.
Bernd hat mich zudem auf etwas ganz anderes gestossen: Kelley Polar ist da ein richtiger unfassbarer Höhepunkt zum Jahresausklang. Garnicht hibbelig, dafür aber sehr Disco und sehr elegant. Kelley Polar hat eine klassische Ausbildung und sein erstes Album "Love Songs of the Hanging Gardens" ist eins der bezauberndsten Alben, die ich dieses Jahr gehört hab, herrliche Strings und eine so tolle Stimme hat der Herr Polar, daß ich da richtig dahinschmelze. Ich glaube das hat was mit der Nase zu tun, ich mag nämlich die Stimme von James Murphy vom LCD Soundsystem so gerne, ich finde, er hat eine sehr sexy Stimme, und bei Kelley Polar geht mir das jetzt ebenso, und ich habe überlegt warum und: beide haben so eine Art Schweine-Nase, man kann da ja mal Fotos der beiden im Google suchen, Ihr werdet sehen, welche Sorte Nase ich meine… Also ist es vielleicht die Nase, obwohl die Stimmen nicht nasal sind sondern eher rauh, leicht gebrochen, aber beide singen damit richtig, kein Sprechgesang, richtige Melodien, das ist es glaube ich: rauher Kerl singt Melodie. War ja klar….Auf jeden Fall viel gute Musik dieses Jahr.(Nochmal die Kurve gekriegt.)
Hier noch ein sehr schönes Interview mit Kelley Polar, der im Moment in einem Holzhaus auf dem Land wohnt und tatsächlich Schafe hütet, kein Witz. Wie toll ist das denn!! Und was auch toll ist: Kelley Polar ist Mitglied der Apple Hill Chamber Players, die in Krisengebieten Streichkonzerte geben. Ich finde das alles sehr gewinnend.
Hier zudem ein ebenfalls gewinnendes Foto von Kelley Polar in seinem kleinen Holzhaus:
(Photo: Rupert A. Thompson)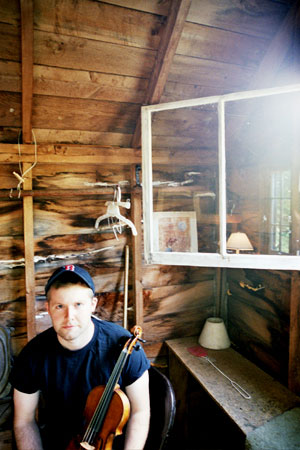 This entry was posted on Wednesday, November 16th, 2005 at 23:20 and is filed under LOVES.